GPMG M60 in Vietnam 1968

Bob Thompson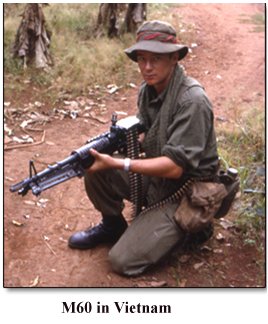 The GPMG M60 7.62mm Machine Gun to most of the Australian Army wasn't up to scratch compared to what they had used in the past like the faithful Bren Light Machine Gun. The Bren stored it's ammo 7.62 mm in a magazine where it was clean the M60 was belt fed usually with 200 linked rounds that if required could be linked to another belt, but when fired from the deck the belt would lay in the dirt and cause stoppages.

The biggest, problem was if the M60 was used for sustained fire the barrel would over heat and require changing to the spare barrel. A lot of soldiers didn't carry the extra barrel as not only was it bulky and heavy but in the heat of battle it was very difficulty to change, not only because of the weight but handling a hot barrel doesn't excite the operator. I have seen the barrel so overheated the barrel itself would droop and wasn't accurate and of course, caused stoppages. The answer is the weapon and all its components must be kept clean as well as the ammo, then it was efficient.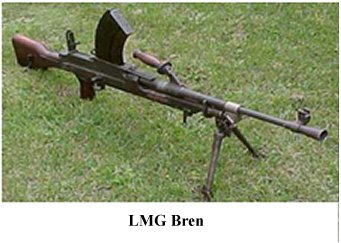 One of our biggest problems was with the KIWI (New Zealanders) they were trained with the Bren Gun, prior to Vietnam.
They would arrive in Vietnam and we would issue them with an M60 which they hated. Hence, they didn't look after the weapon like they should and in almost all cases, their problems were they didn't carry the spare barrel and didn't like the constant cleaning. Our soldiers were better trained and of course by the time they arrived in Vietnam they were familiar with the M60 and found it did the job.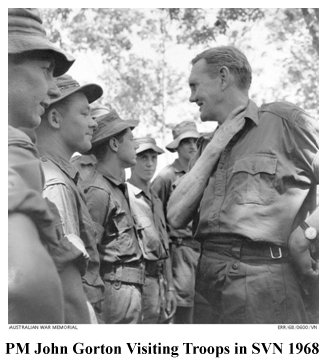 There was one exception that I ran across in 1968 when the Prime Minister of Australia John Gorton (pictured) visited Vietnam and want to talk to the soldiers of 1 RAR who had just completed their mission and been in the biggest battle of the Australian Army in Vietnam 'The Battle of Coral'.

It was on or about the 8 June 68 that the PM arrived with his entourage at Nui Dat and in the company South Vietnam Ambassador to Australia who was accompanied with his wife as our PM was with his wife, made their way to 1RAR where the PM inspects the troops. One of 1RAR's Corporals who was a bit of a bush lawyer knew you could step out of the ranks and voice a complaint to the visiting inspector. This time it was of course the PM. Major Digger Campbell recalls the following conversation with the Cpl and the PM, (recorded in Lex McAulay's Book 'The Battle of Coral'):

PM- How are you going?
Cpl- Good. How are you going?
PM- OK. Got any worries?
Cpl- Yes. How about some new machineguns?
PM- Haven't you got any machineguns?
Cpl- Yes, but they're no bloody good.
PM- What's wrong with them?
Cpl- Well, I think they are the same bloody ones I used on my first tour here two years ago. In my last contact, my gun had twenty-three stoppages.

Right at that moment I was in the Task Force EME's, Captain Ron Hammond, office when the call came in about the complaint to the PM.

As I was the Taskforce Armourer, Capt. Hammond told me to go down to 1RAR and sort it out. I went straight down to 1RAR and spoke to the Sgt Armourer who was in charge of the attachment and he was concerned as he said there wasn't any problems and that all the M60 were up to date with their modifications. Next thing, it was talk to Maj. Digger Campbell who said he couldn't see any problems and that the Cpl. was a bit of a smart arse. I asked to see the Cpl's M60, it wasn't the cleanest weapon that I had seen, when he showed me, he did it without the spare barrel nor the cleaning gear, which he had in it's pouch back in his billet.

I reported that as far as I was concerned there wasn't a problem and that the Cpl was just sounding of because he could, nevertheless the EME had me arrange to have all the M60 inspected in 1RAR the following day.
( Picture Sgt Brian Tobin getting Lady Bettina Gorton to sign 1RAR's Mess Dairy)