106 Field Workshop Vietnam
I had been in country from Apr 1968, posted as the Task Force Armourer, and, as such, was at Coral.
I was then seconded to 1AFV Saigon to Capt. AJJ Lee to start up the General Engineering Section of the Equipment Inspection Service; the Vehicle EIS was already a goer under WO Allan Cook. This meant that I visited every unit in Vietnam at least once.
In late September 1968 I was asked, told, that I would be going to a new unit to be formed in country, 106 Field Workshop. It was suggested to me that we would need to get people from other Units, as the new Unit was not going to be staffed from Australia.
I got a list of positions that would be required to filled from other Units and while doing the EIS role, asked and got the best people, for example, Phil Smith and Terry Dillon just to name two.
As you can imagine Unit Commanders didn't want to lose their best workers. When Maj. Max Tinkler, OC 102 Field Workshop, found out what I was up to, he threatened me with all kind of things. I put the names forward and fortunately we got them.
I visited Engineers and asked what they could give us in the way of sheds, to be told that we could only get the standard shed on hard standing. I got them to give us extra thickness in concrete and also asked them to have two sheds face each other and far enough apart so that we could get a 105How in between them, under the overhang.
I then started on parts and equipment we would require for the new General Engineering Platoon to service the Task Force as well as doing Field and Base repairs on Cent Tanks. All this was done with the complete cooperation of Brian Coulter and all his staff at 1 Armoured Squadron Workshop.
Establishment of 106 Field Workshop
The 1 Armd Sqn Wksp was built up to a Field Workshop and then we were all posted on strength at the same time to 106 Field Workshop. Brian Coulter played a big part as the rest of us did, because along with Coulter, we became 106.
Machinery Loadings
The extra machinery loader was already in situ, and belonged to 1 Armd Sqn Wksp. We took the machinery out of the truck and put them in our sheds.
Fitters Track for Forward Repair Teams
As for the M113 Fitters Track for GE forward repairs, we didn't get one till just before Christmas. I took out the first FRT and that was to a Centurion that had its left hand front suspension damaged by a Viet Cong mine. While the tank was being dragged into FSB Julia approximately 50 clicks from the Task Force Operational Base at Nui Dat. When the EME Fix came in to the Workshop Command Post, my group were tasked to respond.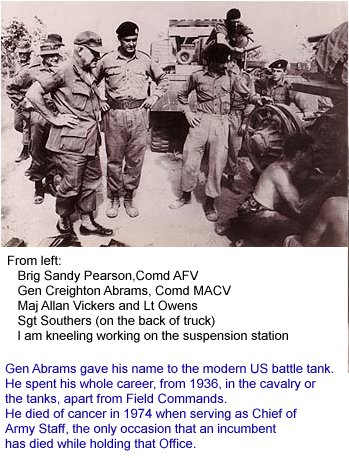 We didn't have a Fitter's APC and definitely no specially adapted armoured mobile repair unit. We did however have a 3-ton truck with soft tyres.
We loaded a new suspension, left hand front, complete with its spring. Because of the urgency we did a free run (without escort) up the 50 kms to Julia.
On arrival the tank crew had removed the track and we got straight to work.
I had previously invented a frame that the suspension sat in, that was also used in it's removal, this frame sat on a 20 ton jack and moved over a sheet of steel that we carried with us. This method meant that we didn't have to remove the guards and of course the ready bins. The complete job was done in less that 2 hours, the tank crew, whose job it has always been, replaced the track.
This operation was carried out just after 106 were formed and the OC was Hicks-Hall, Claude Palmer didn't arrive till late January 1969.
Bruce Cameron, RAAC, who is writing the official history of the Armoured Regiment in Vietnam says the battle damage occurred on 14 Jan 1969 when a Centurion, ARN 160066, callsign 34Bravo, commanded by Cpl `Shorty` Britten had its left front suspension taken out by approximately 15kg of chicom explosive. The tank was recovered to FSB Julia on the 15th where the FRT attended.
While we were removing the suspension I looked around to see the MACV Commander, General Abrams, and behind him, the Commander, AFV, Brig (later General), Sandy Pearson along with Maj Vickers and Lt Owens.
The Handover
As to the handover, we all thought there wouldn't be one, mainly because we all were now part of the new unit.
But, low and behold, Capt. Brian Coulter, one day marched those he could find, down the road from the lines, black headdress on, and he dismissed them, for the last time, on the road outside the Unit entrance. If he handed them over to anyone, we, who were in the Orderly Room, and didn't see it.
It certainly wasn't official.
Wrap up
I commanded No 2 (General Engineering) Platoon for some time, as Jim Hislop, (later Lt Col) was still carrying out his duties at AFV Saigon.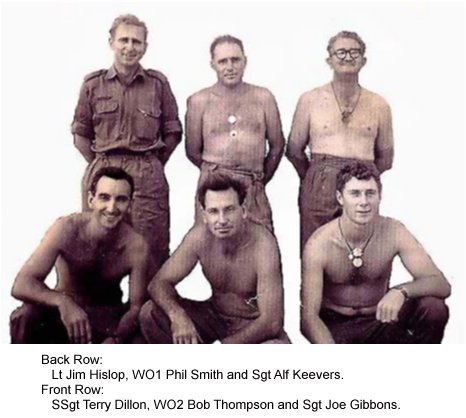 This photo was taken on 1 Dec 1968 outside the first WO's and Sgt's Mess on the RAEME Birthday. The PMC, W01 Phil Smith, was away that day. (Phil Smith was my mate and now deceased)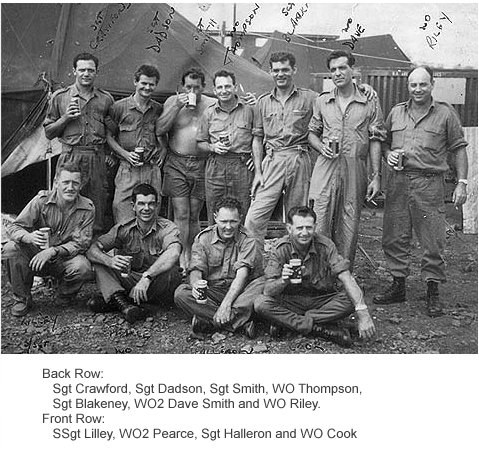 That is my recollection of the birth of 106 Field Workshop RAEME.