Battle of Long Tan Day Remembered at Caloundra RSL
48 years on

Bob Thompson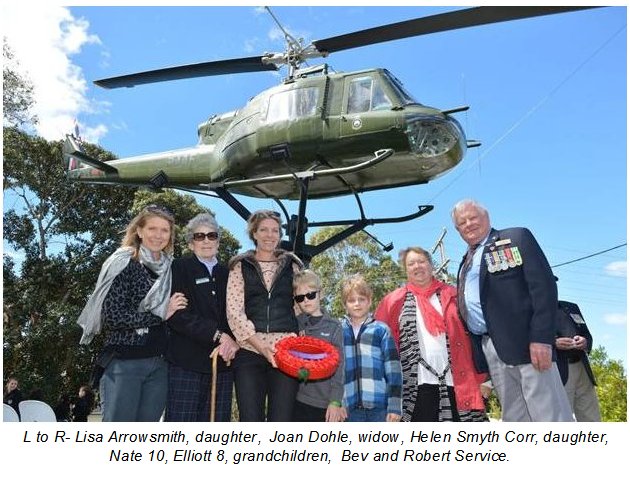 Iroquois helicopter A2-1022 stands sentinel outside and above the entrance to the Caloundra RSL. It serves to remind all who enter the RSL or pass by, that its crew, Pilots Flt Lt Cliff Dohle and Co Pilot Flt Lt Bruce Lane, door gunners, Cpl. Bill Harrington, LAC Brian Hill, temporary ammo unloaders Cpl Robert Service and Cpl William McCutchen saved 6RAR Delta Company from annihilation at the Battle of Long Tan in Vietnam on 18 August 1966, by dropping much needed ammo under monsoonal conditions as well as enemy fire. Flt Lt Cliff Dohle (deceased) was awarded the DSM for his action.
John Cunnington (4RAR) secretary of VVAA Sunshine Coast thought it would be fitting to get those people that were involved and close to the crew to join other veterans to commemorate the 48th year of the Battle of Long Tan held at the Caloundra RSL. John managed to invite and have attend Flt Lt Cliff Dohle's widow Joan Dohle, daughters, Lisa Arrowsmith and Helen Smyth and grandsons Nate, 10, and Elliot,8, along with one of the temporary crew of the actual day, ammo unloader Robert Service, now aged 72.
Joan Dohle was delighted to meet for the first time Robert Service that she and her husband pilot had christened the 'stowaway'. She told reporter Roxanne Mccarty-O'Kane of the 'Sunshine Coast Daily' newspaper, 'that it was a miracle that they both had survived.
Robert Service said it was an emotional day to be reunited with Cliff Dohle's family and remembering his part in the dropping of the ammunition to 'D' Company 6RAR whilst in a pitched battle, and his role in the saving of their lives.