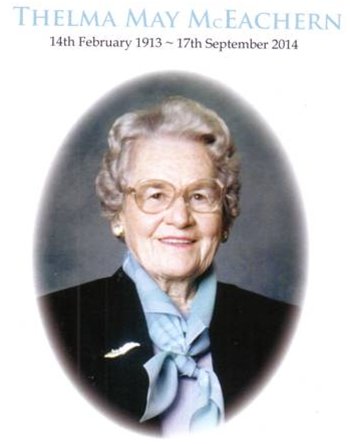 Lt Thelma Bell-McEachern was the last surviving nurse of Sister Bullwinkle nurses that served in Malaya during WW2.
Her Husband was one of my first bosses he was WO1 Reg McEachern RAEME.
Thel passed away on the 17Sep14. This is her Eulogy, written by WO1 Bob Thompson (Ret)

Thelma May Bell McEachern.
Aged 101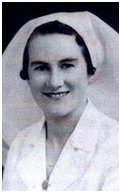 Thelma asked me about 20 years ago to do her eulogy and at the time we had a laugh about it as I said I would have to get everyone to bring a cut lunch as it would take hours/days to deliver. Don't worry I have reduced her story to just today.

A couple of years ago I had to have a quadruple bypass and just before I went into hospital Thel rang me and said, 'Don't you die on me I still expect you to do my eulogy.'

I have known Thelma and count her as my best friend since 1954 I was posted to Puckapunyal to 1st Armoured Regiment LAD. When I arrived there, there was this big Warrant Officer 1 built like a country outhouse who was the boss, I asked him what his name was he told me it was SIR, I later come to know him as Reg. McEachern. I later met his wife Thelma.

Thelma May Bell was born in Sydney on the 14 Feb 1913. The family consisted of a sister, Irene and two brothers Allen and Ken.
Thelma was sent to Albury when she was about 5 years old to live with her Aunt Kate, her mother's sister, and her husband Jim Bourke, the reason was that Thel's father had broken his back and this forced her Mum to go to work to support her family.

Social Security did not exist then and it was just too bad for anyone who fell on hard times. At one time Thel's mum had her husband and two sons in three separate hospitals and she would visit them all every day.

Thelma's mother got 5 shillings for scrubbing the floors and doing washing at hotels or where ever she could get such work. It wasn't unusual those days, especially for large Catholic families to seek help in bringing up families especially if some of the members of your own family was reasonable well off such as the Bourke in Albury.

The Bourkes sent Thelma to St Patrick's Parish school in Olive St, Albury NSW, then she went to St Josephs until she was 17 years of age. She then started her career as a nurse at Albury Base Hospital, it was 1930.

Thelma told me many years ago it was very hard work and as a student nurse she was working at least 72 hours a week all for 10 shillings and the thing that got up her nose was if you broke anything you had to pay for it out of your 10 shillings.

Thel claimed they were no more than paid domestics and if your day off fell when there was a lecture day it was too bad. She said they had to attend lectures.
Thel also was critical of the charge nurses; she reckoned they would often confuse discipline with punishment and she at that time thought the food was terrible. So you see she thought she was a slave within the system.

She remembered that on at least one occasion Matron McAlister who was a tough taskmaster gave her own meal to a nurse who only had a sav on her plate.
As you can see after Thel told me I was to deliver her eulogy I started to keep notes on the early part of her life.

Thel also told me that notwithstanding the hardships of her apprenticeship as a nurse she remembered they were the happiest and best years of her life and she made wonderful friendships that lasted all their lives.

Thel came unstuck at the end of her third year in her four year training when she contacted a virus that affected her heart and ultimately led to her losing her place on the staff. In 1935 when Thel was 22 years of age a dreadful outbreak of flu laid Albury and district low and the authorities were forced to recall all nurses to come to the hospital to help.

Thel was refused permission to do her last year to become a nursing sister and it took her approach to her local member of Parliament Mr Alex Mair who took up her case and had her reregistered as a nurse and got permission for Thel to finish her training. She graduated after 7 years instead of the usual four. She was 24 years of age.
Sister Thelma Bell stayed on at the hospital and it was at this time she met her future husband Reg McEachern who arrived at the hospital to have his tonsils removed. Thel said at first she didn't like him as he was a cheeky bugger but he was as she said a handsome brute. One of Thels many stories was she loved to go dancing and had to be back at the hospital by 11 pm and after that the doors were locked. She said many a time she would return late with her then boy friend Reg and because he was so tall and big she used to enter the nurses quarters via a window on the ground floor that was set rather high up.
Before the war started Thelma had joined the Army Nursing Reserve at the encouragement of Matron McAlister who had served in WW1. So VX39349 Lieutenant Thelma May Bell was called up in January 1941 and within 3 weeks was in the Army.

She had medical checks, issued army cloths and equipment, took the oath of Allegiance and was given a short leave. On reporting back to Victoria Barracks she was given vaccinations and with her kitbag and trunk she was taken to Spencer Street and boarded a troop train to Sydney then as a member of 10th Australian General Hospital boarded the Queen Mary with the rest of the 8th Division. She and along with 7,000 troops set sail on Tuesday the 4th February 1941.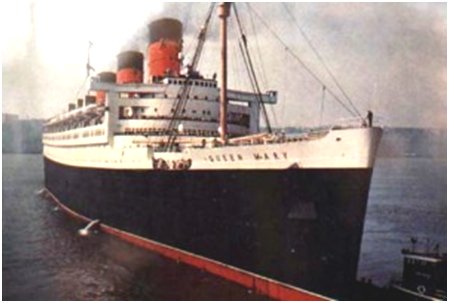 Remembrance Service.
We include in this service to-day a chance to pay tribute to VX39349 Lt Thelma May Bell McEachern
who served in the defense of this, our country. She is the holder of the
1939-45 Star;
The Pacific Star;
The Defence Medal;
The War Medal;
the Australian Service Medal;
and the Returned from Active Service Badge.

Because Thel had injured her back while nursing she was made a TPI which stands for Temporary and Permanent Incapacited.
ALL STAND as we say the ODE
'They shall grow not old as we that are left grow old,
Age shall not weary them nor the years condemn.
At the going down of the sun and in the morning
We will remember them.'
All Present say 'We will remember them.'

'As a token of affectionate and proud remembrance I will place on Thel's coffin a red poppy,
the traditional emblem of war sacrifice, and I invite all those that would like to take up a poppy and place it also on the coffin.
ALL Stand for a short silence. Lest we Forget. All say.
Last Post and then Reveille
End Of Service.